Our youngest John finally made it! He graduated high school with a bang. With over $400k in therapy since he was two years old, he was able to came out as a nonverbal child to a grade 12 graduate with a full diploma! Yes, we did it! WE DID IT! I feel like shouting these words over and over again. I am so proud and elated for his future that I sobbed like a baby. His soothing words of "It's okay, Mama" had made all the difference in this world.
So, if I am asked today on whether I am interested about a cure for autism? Not anymore. At some point when he was two until he was like 6 or 7, I was hoping that someone brilliant will suddenly just come on national television announcing that they finally found the real cause of autism or have discovered some drugs that will untangle the brain of each and every child with autism in the universe. Yes, I had hoped before. In fact, I prayed a thousand times for it so my son can have more of everything.
But you see, year after year, I am given every reason to believe that John is perfect as he is. Amid all the struggles that all of us had went through, we were able to rise up the occasion and raised a sweet and thoughtful young man who sees more goodness and kindness in others more than he sees in himself.
Compassionate, this is the perfect word for my son John. He knows when I feel down and agitated. He knows when to give you a pat in the back without even you blurting any word of what's bottling inside you. It's like he can see through you and, without judgment or whatsoever, he simply understands. He recognizes his but never complains about them. He is aware of his frailties but smile head on even when the whole world is frowning upon him.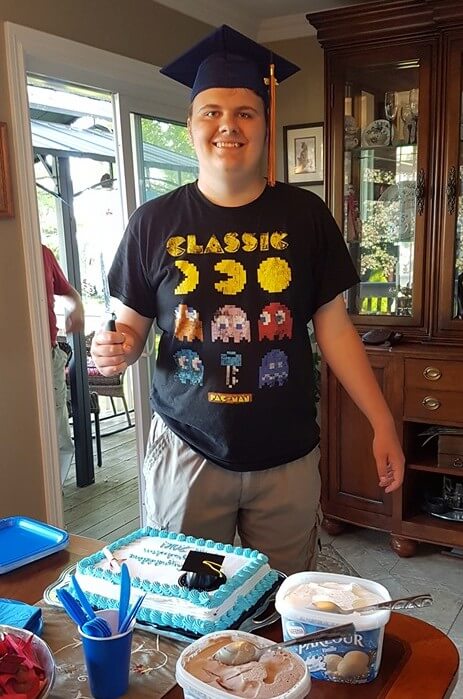 As an autism parent, I know there are others out there who are still trying to unravel their children's condition. Some of them are, perhaps, hoping that a magic vial will be available soon to relieve them from the constant anxiety and frustrations often common in households with autism kids.
Trust me, the frustrations will always sneak up on you every now and then. It will haunt you and make you feel so down it feels like you will never stand tall and proud again. But it is up to you to let such feeling gnaw at your being. It is up to you to let others get into your skin. Your child, your most precious one maybe different from the rest but he is yours and yours alone. He is a gift that needs to be cherished.
So, if you ask me if I am interested in a cure. Stop it already! I may still not be satisfied in the success that John enjoyed today because I know he can do better in the future, I am confident in my skin that I have raised a good son—autism and all. There is no amount of cure that will change him. He is exceptional as he is and for that, I am forever thankful to the Heavens above.
How about you? What's your autism story? Share your thoughts with us. Feel free also to visit our Facebook and Twitter pages. We'd love to hear from you.