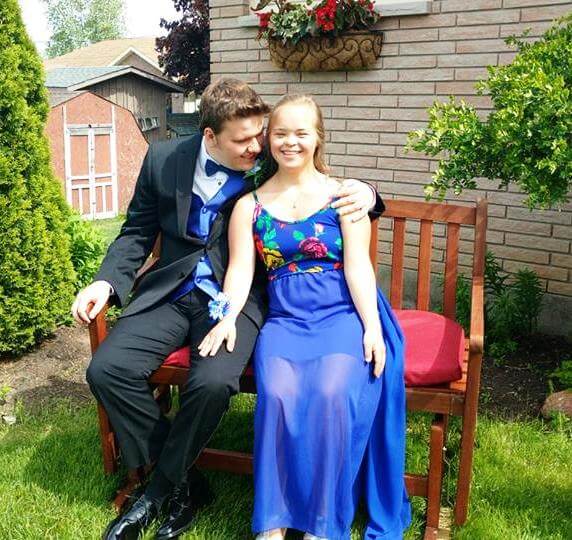 One of the great rites of passage in parenting is when your child with autism gets to have that one special night to wear a tux and spend a ton of a good time — Senior Prom! John in his tux and shiny formal shoes looked so debonair—and his bestfriend Greer Allen coming over from NB made the event even more special. They were so happy together and I felt like weeping due to unparalleled joy. As a matter of fact, I had fun along with Greer's Mom while driving John and Greer in the Brighton, ON town Prom parade.  It was a fantastic day and one that all of us will never forget.
Along with this happiness comes that sigh of relief, that amid all the trials and tribulations that we've been through year after year, we have truly done it. We survived high school. It is, indeed, a moment of spectacular fête but one that's tinged with the bittersweet realization that his ordeal with, as many autism parents dread, adulthood is beginning.
The word "adulthood" seems so far away last year or even a few months ago. Each morning as I take a sip on my favorite cup of Joe, I look in earnest at the glassy lake from my kitchen windowsill remembering how that one day some 15 years ago had me almost bawling out in frustration and utter desolation. It is not easy being told that your son, your bundle of joy, will never have a so-called "normal life" and that going to college (or even to school) may be impossible for him.
Yes, year after year, a series of uncertainties usually blurted out by others to parents with children on the spectrum often put me on my toes. There are even times when you feel like lashing out your irritation on how some people can be brutal and apathetic to our plight. But like many autism parents out there, I always remind myself to get hold of my bearings noting the fact that how I grapple with such situations will largely determine my child's future.
There is some truth on awareness slowly building up hence, lifting ignorance out of others. Acceptance, however, is a different thing. It was not easy making people veer away from their comfort zone, from the so-called "norm." Everything is never easy.
So, here we are at a crossroads once again, an exciting prospect nonetheless. We have talked about him learning more about being a pâtissier. He loves making pastries so, we'll start from there. There are other things running on his mind, too. One by one, we will help him unravel his destiny.
But for now, I am letting him bask in his happiness as he indulged in the remnants of his spectacular senior prom, autism and all worries set aside.