There is an inexplicable kind of bliss when traveling with good friends in tow and of meeting strangers along the way then, turning them into friends. Just recently, my bestfriend and I went for a 7-day Alaskan Cruise– The Alaskan Vortex of Attraction Cruise to be precise– on board the Celebrity Solstice. I have been to Alaska before for the BeSafe Teaching Workshop but not on a cruise like this one and I have always wanted to come back, to see more of what lies beyond the snowy facade.
Abraham-Hicks Workshop With My BFF
Our main agenda, however, is to attend and be part of the Abraham Hicks Workshop to listen to Esther Hicks in person. The workshop is meant as an open form that helps to dissect the many facets of the Science of Deliberate Creation and other topics all based on the Abraham-Hicks Teachings. In a way, this cruise main intention is not entirely to have fun but to discover that sense of clarity, freedom and personal growth in this journey through love, friendship, motherhood, and life in general.
I am quite a fan of Esther Hicks, inspirational speaker and author of the book series The Law of Attraction, Ask and It is Given, The Amazing Power of Deliberate Intent, The Astonishing Power of Emotions, and so on. Her thoughts on the aspect of "infinite intelligence" and how our own thoughts inspire our every action igniting the universe to realign its course with our aspirations. It's trying to unravel a deep sense of who you are so you can grow into the person you are destined to be. Me and my best friend, Willy, are quite lucky as we were able to get a photo with Esther, the driving force behind this cruise, and was able to chat for a short while.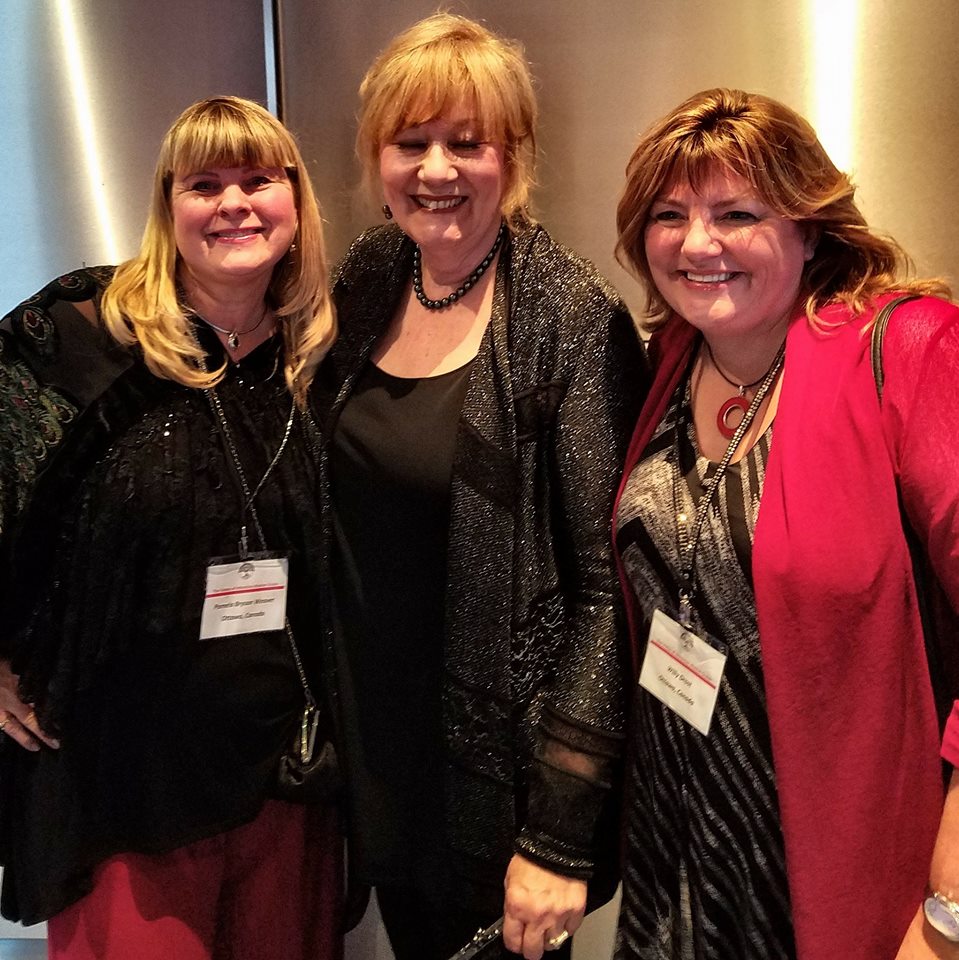 Us with Esther
From Seattle, Washington to Ketchikan, Cruising Tracy Arm Fjord, Juneau, Skagway, Victoria-BC, and back to Seattle, the fun and camaraderie among the many attendees to the workshop has made the trip move jovial and invigorating. Overall, the trip is both fun and liberating. I was happy to have been able to share it with my best friend and to find hundreds of other people who share the same interest as I do. Listening to Esther and her sage wisdom as well as countless others who shared their own journey in life have also been etched in my being. Last but not least, being able to meet someone and turn such a chance meeting into a lasting friendship is what makes the whole cruise truly magical and worth remembering.
Touching Lives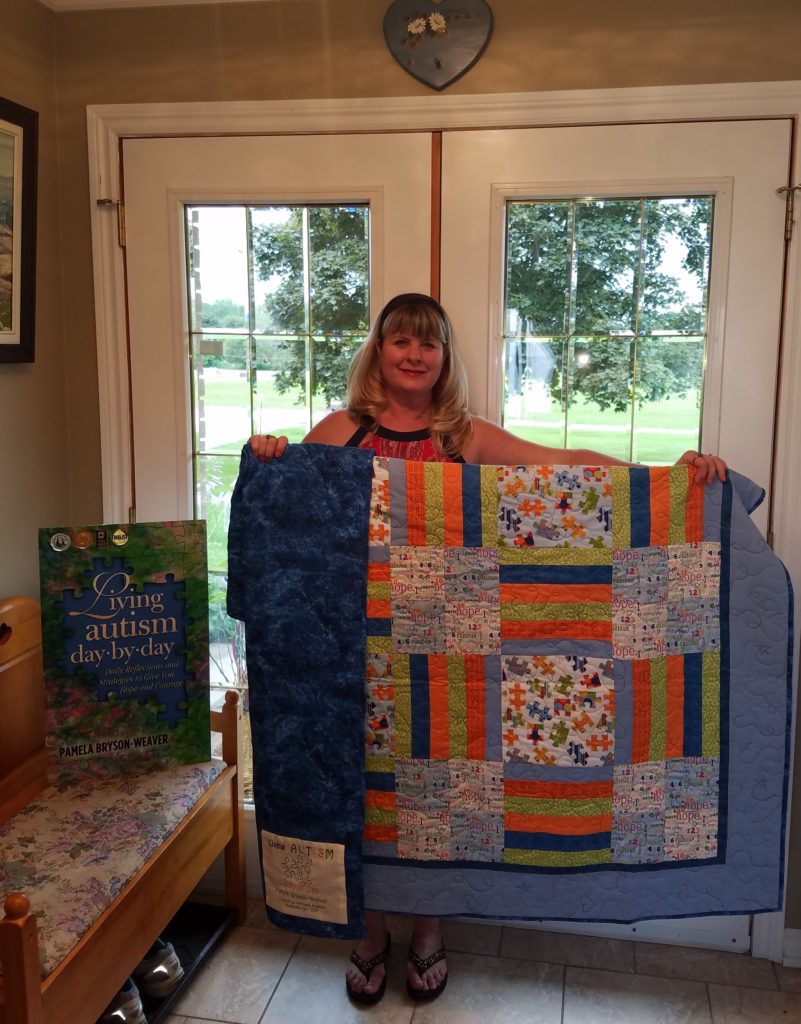 Though I fell ill upon going home, I was elated to find a lovely surprise from another friend, Barbara Ataman. The Autism Quilt (see above) is a memento handcrafted by Barbara as a way of supporting my autism advocacy. We are both members of the Catholic Women's League. In April this year, I was made keynote speaker for the Peterborough Diocesan Convention in Huntsville, Ontario– and there I met Barbara.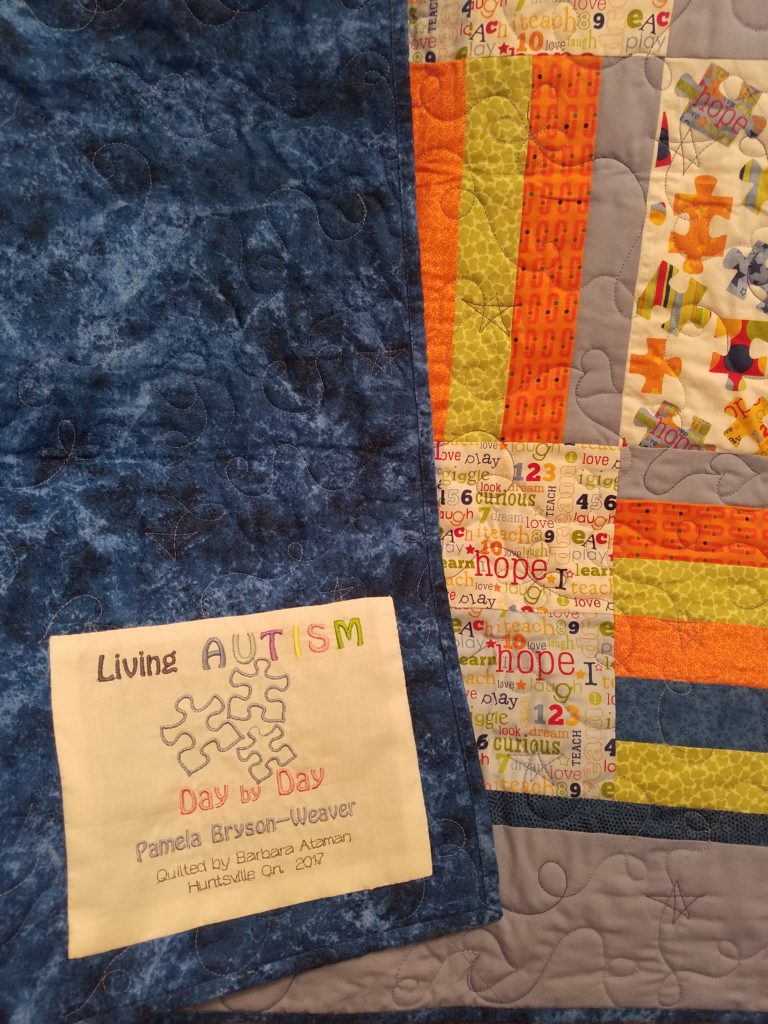 I can sense that it's patchwork is done with keen attention to detail, pouring a whole lot of emotion and love into them that when pieced altogether becomes the ultimate rendition of trust and respect. Quilting, as a tradition passed down from one generation to the next, has always been a fascinating subject for me. I can do many things but sewing/quilting is just not one of them. It takes time and effort, and a whole lot of sacrifice and emotions go into the fabric. Thus, I am totally elated when given this quilt as a memento. It felt like being welcome into someone's life and things just simply fall into place.
Being an autism Mom is an exhilarating experience. Or let me rephrase that– being a Mom per se is a rollercoaster ride. But being able to meet people, share experiences with friends, and forge lasting relationships with people who support you for who you are truly make it worthwhile. Xoxo!
Want to learn the latest on Autism? Come and join our Facebook Community HERE or sign up and subscribe to our newsletter!
Autism, AutismAwareness, AutismAcceptance, Travel, AlaskaCruise, AbrahamHicks, VortexOfAttraction, LawOfAttraction, Friendship, Quilting, CatholicWomensLeague, Religion, Love